Arguments Against Same Sex Marriage Essays About Life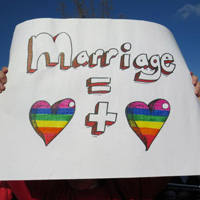 Both in the U.S.A. and internationally the marriage equality movement is gaining momentum. Accordingly, more and more people are starting to acknowledge the flawed nature of all arguments which oppose the legalization of same-sex marriage. This article discusses 10 of the most common positions presented by opponents of marriage equality and outlines why each deserves a failing grade.
1. Nature: "It's Not Natural" (FAIL)
The most basic argument presented by gay marriage opponents purports that marriage between two people of the same sex is "not natural" and is in violation of the "natural order." At this level of the debate there is very little exploration of the inherent validity (or otherwise) of same-sex marriage but rather a fixation on the notion that homosexuality is unnatural: "It's Adam and Eve, not Adam and Steve," the opponents quip. In reality, marriage is a societal institution. The natural world didn't create marriage, humans did. Nature-themed arguments against gay marriage say little about the societal institution of marriage but reveal a lot about the homophobia and heterosexism of those who present such arguments. In this regard, the disapproval isn't about gay marriage per se -- it's more about discomfort with homosexuality, period.
2. Procreation: "Marriage is for Procreation" (FAIL)
With the procreation argument, opponents of equality argue that the institution of marriage is essentially in place to assist with procreation and the raising of children. They reason that because two people of the same sex cannot procreate that they should not be allowed to marry. While the production of children may indeed be a feature of many heterosexual marriages the capacity to procreate does not determine the legal validity of such marriages. There are many married straight couples who cannot biologically have children or who choose not to. The procreation argument ignores the fact that people marry for a wide range of reasons unrelated to procreation including love, friendship and companionship.
3. Religion: "It's Against My Religion" (FAIL)

Christianity-based arguments lead the way in efforts to oppose the legalization of same-sex marriage in America. References to the Bible, the "sinful" nature of homosexuality, and "religious beliefs" are regularly made by those who seek to rationalize their support of discrimination via religion. Marriage is a religious institution, they argue, and not one for society to tamper with. Given that the U.S.A. is a secular nation, religion should play no role in any discussion about civil and societal laws. In order to legally marry there is absolutely no requirement for a religious ceremony to be held. In this sense, marriage is not a religious institution but a socio-legal one governed by the state. Religious beliefs about marriage should never be enshrined in laws in ways that restrict the freedom of others who do not share those beliefs.
4. Redefinition: "You're Trying to Redefine the Institution" (FAIL)
Opponents argue that marriage has always been between a man and a woman and that it should stay that way. They say that efforts to legalize same-sex marriage will fundamentally alter the institution for the worse. History reveals, however, that marriage laws in the U.S.A. and in countries across the globe have been modified repeatedly in response to evolving cultural norms. There was a time when women were the legal property of their husbands. There was a time when a man and a woman of different races couldn't marry each other. There was even a time when not one country in the world had legalized same-sex marriage! Removing discrimination from the institution of marriage does not redefine "marriage" -- it simply makes the institution more accessible and reflects the evolution of society.
5. Sanctity: "It's a Threat to the Sanctity of (Opposite-Sex) Marriage" (FAIL)
With roots in religion, the sanctity argument posits that marriage is a "sacred" institution that only heterosexual couples should have access to. Allowing same-sex couples to marry apparently poses a "threat" to "traditional marriage" as though somehow heterosexual married couples will all be at risk of divorcing when two people of the same sex marry each other. If those who use the "sanctity" argument were genuinely concerned about the institution of marriage they'd focus their efforts on helping those straight married couples who are at risk of divorcing. If marriage was so "sacred" they'd also be pursuing the outlawing of heterosexual divorce. They do neither of these things. The only married straight couples impacted by the legalization of gay marriage are those in which one of the parties is a closet-case gay person who dreams of coming out and marrying someone of the same sex!
6. Children: "It Will Harm the Children" (FAIL)
Opponents of equality frequently make use of flawed research studies to insinuate that allowing same-sex couples to marry will somehow harm children. They argue that children need a "mom and a dad" in order to flourish in life and that legalizing same-sex marriage denies children this opportunity of "normalcy." Multiple studies across the social sciences have repeatedly demonstrated that there is no difference in psychosocial outcomes between children raised by opposite-sex couples and those raised by same-sex couples. There is no evidence that children are psychologically harmed by having two dads or two moms. The American Psychological Association (APA), the American Sociological Association (ASA), and the American Academy of Pediatrics (AAP) has each endorsed the legalization of same-sex marriage and its capacity to provide a stable familial framework for children.
7. Reverse Discrimination: "Religious People Will Be Discriminated Against" (FAIL)
Some opponents of marriage equality describe a future in which religious people become the new "victims" of oppression. They talk of charity-based religious organizations being "forced out of business" for "sticking to their beliefs" about marriage. In this reverse scenario, gay people are apparently "hateful" for wanting to be treated equally in society. How dare we demand equal rights and criticize those who discriminate against us! In no state of the U.S.A. in which gay marriage is legal is a church legally required to perform same-sex marriage ceremonies. Religious groups and churches are still free to pick and choose who they will and won't marry. Organizations that receive public money, however, and which must adhere to anti-discrimination laws, should rightly be challenged if they engage in discrimination against a protected class of people.
8. Slippery Slope: "It Will Lead to Marriage Involving Animals, Siblings, Children, or Groups of People!" (FAIL)
Slippery slopes arguments suggest that legalizing gay marriage will serve as a "gateway" for the legalization of marriage involving animals, siblings, children, or groups of people. People who present these scenarios portray a catastrophic future with society crumbling under the weight of rampant immorality and social discord. Efforts to legalize same-sex marriage, however, simply aim to provide same-sex couples with equal access to marriage laws -- there is no intention to change the fundamental definition of marriage as the legal union between two adult human beings who have no direct biological connection with each other. Facts are useful in this regard: of the fifteen countries and 12 U.S. states that have legalized same-sex marriage, none of them has subsequently legalized marriage involving animals, children, siblings, or groups of people.
9. Civil Unions: "Civil Unions Are Good Enough" (FAIL)
Some opponents of same-sex marriage support the creation of a "separate but equal" platform in which straight couples and gay couples receive the same relationship rights and benefits, but from within different institutional frameworks. They argue that "marriage" should be left exclusively for opposite-sex couples and that same-sex couples should be granted "civil unions." History has demonstrated that this "separate but equal" approach doesn't work. Various countries and American states which initially permitted "civil unions" for same-sex couples have subsequently enacted marriage equality legislation. These jurisdictions have pursued such changes because civil union legislation, no matter how valiant the effort, is not able to provide the same rights and benefits as legal marriage. In essence, having a two-class system continues to maintain the erroneous notion that one group (straight people) is more superior to another group (LGBT people).
10. States' Rights: "States Have the Right to Oppose It" (FAIL)
This position stresses that states have a constitutional right to make their own decisions about the legalization of same-sex marriage which may include banning it. Ironically, most advocates of this argument also support the Defense of Marriage Act (DOMA), a law which allows the federal government to deny more than one thousand federal rights and benefits to same-sex couples legally married at the state level. The maintenance of a system which allows some states to recognize same-sex marriage and others not to, and which allows the federal government to ignore legal same-sex marriages performed at the state level, sets up a cumbersome and extremely complicated national map of unequal rights and legal nightmares. Those who support a "states' rights" approach to same-sex marriage should at least be consistent and drop their support of a federal government act (DOMA) which essentially tramples states' rights.
Conclusion: Marriage Equality is the Future -- Embrace it!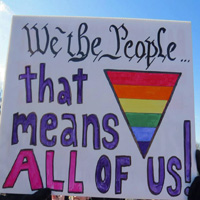 There is no logical or reasonable basis for denying same-sex couples access to secular marriage laws. Opposing the inevitable (marriage equality) is a waste of time, money and energy. I urge all of those who oppose gay marriage to start focusing on their own lives, to accept that they don't need to marry a person of the same sex, and to recognize the right of all Americans to be treated equally under the law: "liberty and justice for all" should not come with a disclaimer.
(A longer version of the above article is available at the GMUSA blog. Thank you to those at the GMUSA facebook page who have regularly shared their views on this topic and who have, in that regard, helped contribute to the ideas and arguments expressed in this article. Photos by Murray Lipp.)

Follow Murray Lipp on Twitter: www.twitter.com/GayMarriageUSA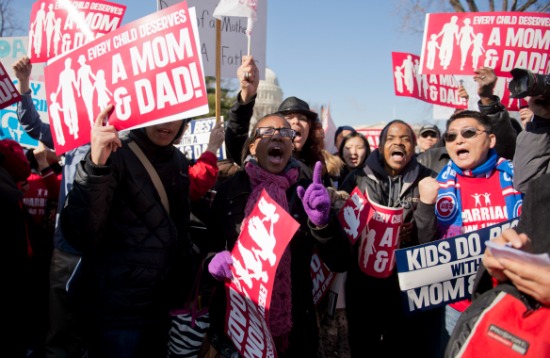 (Getty/Tom Williams)
Rich Stearns is a servant, a Wharton grad who leapt from the top of corporate America and landed in a stream, knees bent bracing. Arms outstretched, he is a fisher of men, desperate to save the poor, sick and suffering. Stearns' talent has transformed World Vision into the eighth largest charity in America, with annual revenues of more than $1 billion. Some 40,000 employees are active worldwide doing disaster relief, providing food, and assisting refugees. 
According to a 2009 interview, Stearns intends to reduce by half the number of children who die daily from poverty-related causes. If he succeeds (count me among those who believe he will) that number will still be 13,000 dead children daily.
At a recent gathering in Los Angeles, Stearns privileged the work he and others do around poverty issues and criticized Christians who he sees as preoccupied by work focused on the meaning and purpose of marriage. "No one ever died of gay marriage," he argued.
It is unlikely that "number of deaths prevented" is actually Stearns' metric for determining the legitimacy of a vocation. Surely he recognizes the mundane contributions of faithful Christians in education, law, engineering, art, and a thousand other fields as legitimate whether or not life hangs in the balance.
No, the comment tells us that Stearns finds marriage a trivial issue. Nero fiddled as Rome burned; meanwhile, Teetsel blogged about same-sex marriage. And so he pleads, "Why don't you do something that matters?"
Stearns is not alone. As the 29 year-old director of the Manhattan Declaration I am often asked that question. Founded in 2009 by Charles Colson and more than 100 religious leaders from the three historic Christian traditions, the Manhattan Declaration defines life, marriage, and religious liberty as foundational principles necessary for the common good. The Declaration asks Christians to prioritize these concerns and refuse to "render unto Caesar" when the laws of man contradict moral obligations to God. Why be involved in such work? 
Life, marriage, and religious liberty are not arbitrary choices; they are inextricable. The ethic of life is premised on the doctrine of Imago Dei, the inherent dignity of every human being as a creature uniquely crafted in the image of God himself. Why do we care about the poor, oppressed, and suffering? Because they are human beings.
Marriage is the beginning of family, the foundation of human society. By design, one invaluable man and one invaluable woman come together and create new lives of inestimable worth. The same biological reality that creates life is mirrored in the anthropological reality that children need a mother and father. Marriage is the social institution that binds woman and man in the kind of permanent, exclusive relationship that nurtures children into adulthood.
Religious liberty allows mothers and fathers to order their lives according to their most deeply held values and beliefs. America's "first freedom" obliges the state to preserve a vibrant public square in which citizens are free to express themselves and advocate policy according to the demands of their conscience in a democratic process resulting in compromise and accommodation.
Why don't I do something that matters? The meaning and purpose of marriage is important. The disconnect between sex and its intended purpose has resulted in dire consequences for society, especially its most vulnerable members, children. In the unlikely event the Supreme Court makes same-sex marriage the law of the land this week, I'll keep working for a culture of marriage and family because it's too important to be forgotten, no matter what the law says.
According to research by Robert Rector and Pat Fagan of the Heritage Foundation, in America children raised in a home with their biological mother and father are 82 percent less likely to be poor. The U.S. Department of Health finds 63 percent of youth suicides are from fatherless homes. Seventy-one percent of all high school dropouts come from fatherless homes, according to the National Principals Associations. And the National Fatherhood Initiative finds the absence of a biological father increases by 900 percent a daughter's vulnerability to rape and sexual abuse.
President Obama understands these facts. In 2008 he argued:
We know the statistics – that children who grow up without a father are five times more likely to live in poverty and commit crime; nine times more likely to drop out of schools and twenty times more likely to end up in prison. They are more likely to have behavioral problems, or run away from home, or become teenage parents themselves. And the foundations of our community are weaker because of it.
Some say such statistics are unrelated to the question of same-sex marriage. Any two parents are as good as a biological mother and father, they claim. University of Texas sociologist Mark Regnerus has conducted the largest study comparing outcomes for adult children of biological two-parent families to those of parents who had been in a same-sex relationship, were divorced, and so on. According to his 2012 New Family Structures Study, there are statistically significant differences on variables for children of a mother or father who had a same-sex relationship—ranging from joblessness to educational attainment to increased rates of depression—when compared to children who lived with their married, biological parents throughout childhood. There were also differences for the adoptees, stepchildren, and the children of single parents. Regnerus' research incited much debate, and the journal Social Science Research, which published Regnerus' peer-reviewed article, later published a critical audit of it. Still, Regnerus' study indicated children have better outcomes in stable homes. Future research is needed, but for now, Regnerus' work is the gold-standard.
The science may be debatable; what isn't—at least for Christians—is the importance of sex differences. The first time our Lord declared that something was not good was the lack of a suitable partner for Adam; the remedy was Eve. "Male and Female he created them" (Genesis 1:27). The world may argue that a woman can fulfill the role of father, but Christians must reject such a claim.
Even if there were no harms for children of same-sex couples, Christians would rightly continue to work against sexual brokenness. Homosexuality, like all sexuality outside the bounds outlined in scripture, is harmful to those involved. Sin destroys, so the same compulsion that drives us to save our neighbor from poverty and injustice ought drive us to help them escape sin. 
In the fall of 1939 C.S. Lewis gave a sermon titled Learning in War-Time. England had just declared war with Germany. Europe was at war, but Lewis was at Oxford. What explanation could there be for indulging in higher education at such a time? Lewis summarizes the question: "Why should we—indeed how can we—continue to take an interest in these placid occupations when the lives of our friends and the liberties of Europe are in the balance? Is it not like fiddling while Rome burns?"
After reminding his audience that war is really no unusual circumstance for human beings are always living on the edge of a precipice between life and death, Lewis answers that we are called to different things:
The work of a Beethoven, and the work of a charwoman, become spiritual on precisely the same condition, that of being offered to God … This does not, of course, mean that it is for anyone a mere toss-up whether he should sweep rooms or compose symphonies. A mole must dig to the glory of God and a cock must crow. We are members of one body, but differentiated members, each with his own vocation. … If our parents have sent us to Oxford, if our country allows us to remain there, this is prima facie evidence that the life which we, at any rate, can be lead to the glory of God at present is the learned life.
Mr. Stearns is right to lament. He has been called to a tremendous cause and has too few helpers. Some Christians fail to obey their call to help the poor and sick, to strive for justice and righteousness.  But Stearns and others are wrong to question those whose vocation leads them upstream to the source of so many social ills. Businessmen creating jobs, teachers equipping underserved communities for future success, and policy advocates rebuilding the foundation of human society—the family—are each part of an interconnected network of human beings with differentiated skills working towards a common goal. 
Those of us working to reaffirm and renew a culture of marriage and family have been given a difficult task. It is too much to expect those outside the Church to understand our commitment to such a cause; their hatred can be forgiven. In times such as these there is no time for dispute within the body. Instead, let us offer one another a nod in solitude as we pursue the call God has given to us, knowing that ultimately all things work together for good.  
Eric Teetsel is the executive director of the Manhattan Declaration. He lives in Washington, D.C. with his wife. Follow him on Twitter @EricTeetsel. Learn more at www.manhattandeclaration.org.