Christopher Niquet Joan Didion Essays
In October 2014, a proposed documentary on Ms. Didion, "We Tell Ourselves Stories in Order to Live," began soliciting donations on Kickstarter. Directed by Ms. Didion's nephew, Griffin Dunne, and Susanne Rostock, with the participation of Ms. Didion, it billed itself as "the first and only documentary about Joan Didion."
The goal was to raise $80,000. It raised $221,135 — more than double its goal — and it was the third-highest-funded documentary on Kickstarter in 2014.
"By a number of measures," said Justin Kazmark, a spokesman for Kickstarter, "it would be one of the biggest successes of 2014."
The wild success of the Kickstarter project speaks to the enduring appeal of Ms. Didion, whose carefully crafted image, as well as her work, has become canonical. Though her work has long been appreciated and revered, the Didion whose star rose this year is as much icon as author.
"In the year since they did the Kickstarter, there's been so much" conversation about her, said Joana Avillez, an illustrator who has contributed to Vanity Fair and who sketched Ms. Didion for a T-shirt given as a thank-you to Kickstarter supporters who contributed $50 or more. (All 250 shirts were claimed.)
Appreciation of Ms. Didion's work has often dovetailed with appreciation of her style, both on and off the page, which may explain the particular affection (and the surprising synergy) between her and the fashion industry. Several industry insiders worked to promote Mr. Dunne's efforts to fund the documentary, including Laura Brown of Harper's Bazaar and the stylist Christopher Niquet.
"Her controlled first person helps imbue the writer's habits with the lambent glamour of a lifestyle-magazine spread," Nathan Heller wrote in an essay titled "Why Joan Didion Matters More Than Ever." It appeared on the website of Vogue, itself an organ of lambent glamour.
"She has been an object of aspirational longing," Meghan Daum wrote in The Atlantic's September issue, one of many Didion considerations to come out this year.
The occasion for Ms. Daum's article was the publication, in August, of the first major biography of Ms. Didion, "The Last Love Song" by Tracy Daugherty. It makes a counterpart and inverse to "We Tell Ourselves Stories in Order to Live": unauthorized where the documentary is sanctioned, told around Ms. Didion (some of whose confidants declined to participate, apparently at her request) rather than by or with her. ("We Tell Ourselves Stories in Order to Live," whose title comes from one of Ms. Didion's most famous essays, is in production, with plans for a release at the end of 2016 or beginning of 2017.)
"I think she early on saw the importance of style — not just in writing, but in fashion and in music and in art and in politics, even," Mr. Daugherty said in an interview. "I think she very early on carefully crafted an image for herself and understood that personal style was all part of the package of being a writer."
The potential downside of this fetish for Ms. Didion's aesthetic is that it may eclipse the fetish for her writing.
"Nowadays, everyone knows the name, even if they haven't read her," Mr. Daugherty said.
What's more, Ms. Avillez pointed out, latter-day Didionites may come to her through the image first.
"She's now idolized so much for being in the Céline ad, by girls who maybe don't even know she's a writer," she said. "Reading her work is not necessarily part of the fascination with her. It's like, 'Look at her huge sunglasses.'" Two pairs of Ms. Didion's own sunglasses were offered as Kickstarter gifts to those who gave $2,500 or more; both were snapped up.
But there is reason to believe that the rise in profile has brought with it a rise in readership.
According to Nielsen BookScan, which tracks sales of print books, sales of her work in 2015 to date are up nearly 55 percent over the comparable period the previous year. For the same period in 2014 over 2013, they had been down 2 percent.
This uptick is despite the fact that Ms. Didion has not published a book since "Blue Nights," her memoir of her daughter's death, in 2011. Her previous memoir, "The Year of Magical Thinking" (2005), about her husband's death, has sold more than a million copies, was adapted for the stage and brought her wide acclaim and a new audience.
Still, this year brought even more fans to the fold.
"I'm a recent convert to Joan Didion, whom I've been meaning to read for years and finally got around to," Kim Gordon, herself a style icon, told The Times Book Review in February. "How cool is it that Céline chose her for their new ad campaign? I want those sunglasses."
Ms. Didion has not only become fashionable, she has also become fashion: painted onto the back of a limited-edition leather jacket, and used as the namesake and guiding spirit for an expanding line of slouchy women's wear.
For an icon of both the publishing and the style worlds, it was probably a foregone conclusion that she would find her way onto a tote bag, too. And so she has, on an "it" bag even harder to come by than one of Céline's.
When the website Literary Hub, created by Grove Atlantic and Electric Literature, and whose partners include nearly all of the major publishing houses, started in April, it printed up totes to gift to friends and supporters. One of Julian Wasser's famous images of Ms. Didion was selected to adorn the bags, with her blessing — provided they were not sold.
"We've had people get in touch via Facebook and Twitter, offering to pay exorbitant amounts of money for them, honestly," said Jonny Diamond, the editor of Literary Hub. "People love them. If we don't work as a website, we can always become a tote bag company."
Mr. Diamond added that since Literary Hub went live, he has fielded "probably a disproportionate number of Didion-related pitches" from would-be critics.
"Someone said that we've reached peak Didion," he said. "I think it can go even further."
Continue reading the main story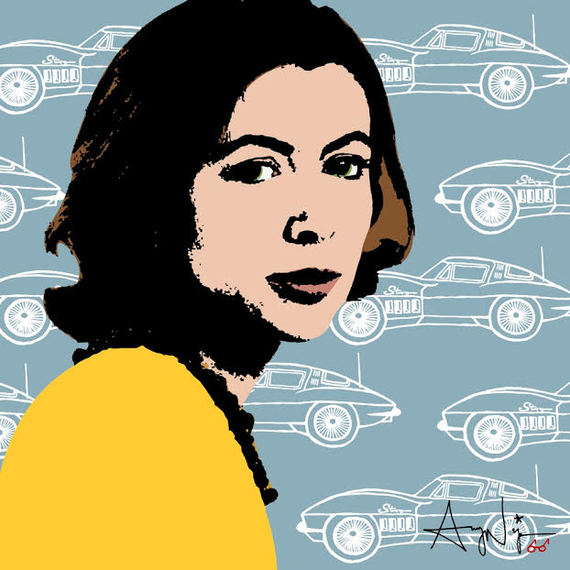 Avery Nejam Limited Edition Print. Image courtesy of Avery Nejam
"We tell ourselves stories in order to live," Joan Didion writes to open one of her many seminal essays, "The White Album." "We look for the sermon in the suicide, for the social and moral lesson in the murder of five. We interpret what we see, select the most workable of multiple choices. We live entirely, especially if we are writers, by the imposition of a narrative line upon disparate images, by the 'ideas' with which we have learned to freeze the shifting phantasmagoria which is our actual experience." A cursory Google search of those opening lines reveals that they have been used by none less than a Christian evangelist, a postmodern philosopher, a business leadership consultant, a Beatles biographer, and Into Thin Air author John Krakauer to illustrate stories' sway over our lives.
It's a compendium of characters Didion herself might appreciate, and one which her own family is now joining. Didion's niece and nephew are teaming up with a co-producer and director to make a documentary titled We Tell Ourselves Stories in Order to Live that will "show Joan's life through her words and put those words to images," as Didion's niece Annabelle Dunne put it to me. The film will be co-directed by Didion's nephew Griffin Dunne and documentarian Susanne Rostock, and co-produced by Annabelle, who also produces films with Vanity Fair's Graydon Carter, and Emmy-winning producer Mary Recine.
The genesis for the project was the short film that Griffin, an accomplished actor, producer, and director, made to accompany his aunt's 2011 memoir, Blue Nights. The resultant short is a haunting mélange of vignettes set to Didion's text. "We filmed in the middle of August in New York," Annabelle recalls. "It was incredibly hot, and hard to find a crew, but Joan was totally game. We shot for three or four days, and I think she had fun." The experience made the cousins realize how compelling a documentary spanning Didion's entire life and oeuvre could be, and pitched their subject. "Her response was very Joan," Annabelle remembers: "'Fine.'"
The team has been at work ever since, shooting footage of Didion and fundraising for the film, which is a daunting task even when the subject is a cultural icon as beloved as theirs. So the team got creative in a quintessentially contemporary manner: they decided to launch a Kickstarter campaign. The crowd-funding site offered a unique way to not only raise funds, but also to prove to potential backers that the film would have an audience. Another incentive to using Kickstarter was the prospect of reaching a new audience. "One of our motivators in the Kickstarter campaign was engaging a younger community," Annabelle said. "We'd always known there was an interest in Joan's work there, but we weren't totally aware how keen that community is to see something like this."
And keen they are. Announced on Vogue.com on October 22, the campaign surpassed its fundraising goal of $80,000 in 25 hours. Pledges of every denomination are rewarded with an array of Joan-themed objects. "People responded not to glitzy items, but those that have a connection to Joan," Annabelle said. To wit, supporters have snapped up everything from a handwritten list of Joan's twelve books to read before you die (pledges of $35 or more) to an old pair of her trademark sunglasses (pledges of $2,500 or more). And more memorabilia has subsequently come out of the woodwork. Rummaging through his studio, director Jerry Schatzberg found the original manuscript for The Panic in Needle Park, the first screenplay that Joan co-wrote with her late husband John Gregory Dunne, marked up with edit notes. It will be offered as a reward starting on November 17th.
A testament to how deeply Didion's words have inspired artists across mediums, friends of the film like stylist Christopher Niquet and artist Avery Nejam have created an array of limited-edition items for supporters (a t-shirt emblazoned with a photo of Joan that epitomizes itself the cool force of her prose, and an arresting pop art-esque print of the same image, respectively.)
The overwhelming response to the campaign and the community that has coalesced around it will impact the film's narrative arc, absolutely, Annabelle said. "This whole project is about Joan, her work, and how it has impacted people. There will be a huge amount of interviews in the film, from her peers, critics, editors, collaborators, young people who have been affected by her work. Her work is such a bond, it can glue together a whole room of strangers."
Up next for the filmmakers is an intensive round of interviews with such figures as Patti Smith, Annie Leibowitz, Michiko Kakutani, Graydon Carter, Anna Wintour, and Bret Easton Ellis. (Anyone who pledges $5,000 or more can come catch an interview on set.) The plan is to shoot through the winter and begin cuts in the spring. One gets the sense that the fundraising campaign has galvanized the many creatives Didion has inspired to further express and explore her impact. For one, this Monday Vanessa Redgrave, who portrayed Didion's character in the 2007 Broadway adaptation of The Year of Magical Thinking, will give a reading of Blue Nights at the Cathedral of St. John the Divine.
And as for the subject herself? "I think Joan is getting a kick out of all of it," Annabelle said. "She's tickled."
The Kickstarter campaign for We Tell Ourselves Stories in Order to Live closes on the 20th of November. To contribute, please go to Kickstarter.
Follow Elizabeth Nicholas on Twitter: www.twitter.com/eliznicholas